Our bio farm is situated in the middle of green meadows with a lot of space around the house. Many animals feel home at our farm: our Tyorlean "Grauvieh"-cows with their calves, supply us with tasty milk. Since April 2014 we are delivering our milk to the Alpine dairy in Sterzing – South Tyrol. Furthermore, we have chickens which provide our guests with fresh eggs.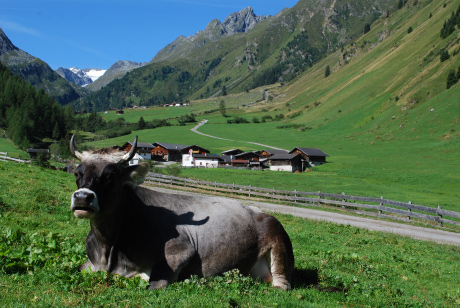 Rabbits, guinea pigs, our cat Cäsar and our newest members, the dwarf goats Mecki and Zupfi have a funny life in our pets corner – depending on how many kids are around to play with them.
 Our own – local produced products like milk, butter, eggs, a variety of jams and ham make our breakfast buffet specially tasty. The products like home-made liqueurs or spirits can be also purchased and used as a holiday present.
We are situated in Milders, a district of Neustift where you can find a supermarket, a ski bus stop and the Intersport ski rental where our guests have a disocunt of 10 % within short walking distance. Many restaurants, a pizzeria and a cash machine are just next to our farm.
Nachwuchs am Hof
Sommerurlaub unserer Tiere
Der alte Hof
Unsere Tiere
Unser Bauernhof
Spaß und Entspannung vorm Haus